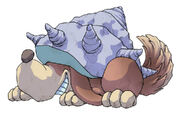 Hermit Lab


The hermit lab in battle.
Bestiary #
187
HP
Attack
Alignment
Water
Level
5
Habitat
Lover's Cove
Drops
Green Frog
Bestiary Entry
The hermit lab is a simple beast with simple tastes: making mischief, swiping stuff, and scratching. Some say its a messenger of the Dragon God.
Bira Rewarded
500
The Hermit lab is a water element mini-boss on Cassia.
The Hermit Lab is capable of withdrawing into its shell, at which point it does not attack.
Ad blocker interference detected!
Wikia is a free-to-use site that makes money from advertising. We have a modified experience for viewers using ad blockers

Wikia is not accessible if you've made further modifications. Remove the custom ad blocker rule(s) and the page will load as expected.