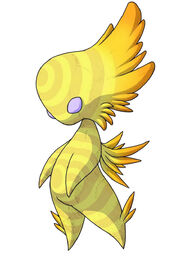 Luminites
are a species native to
Nova
. They seem to have a form of Utopian society and rely on a
queen
that reincarnates herself every few hundred years.
Appearance
Edit
Luminites are light yellow with brownish-yellow stripes. They do not seem to have digits on their arms or feet.
In Magical Starsign
Edit
Luminites are found in a palace on Nova.
Name Origin
Edit
Luminites are named after different layers of the sun and phonetic puns of light.
It is possible that Luminites are some form of evolved version of Stars, light creatures from Magical Vacation.
Ad blocker interference detected!
Wikia is a free-to-use site that makes money from advertising. We have a modified experience for viewers using ad blockers

Wikia is not accessible if you've made further modifications. Remove the custom ad blocker rule(s) and the page will load as expected.