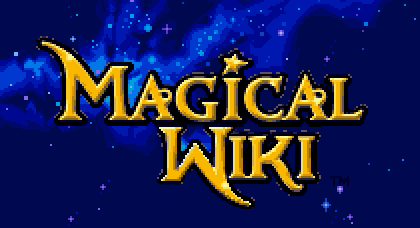 The Magical Wiki is devoted to compiling information about the games Magical Starsign and Magical Vacation. Anyone with information to offer is welcome to edit! This database is in its infancy, so any new info will be greatly appreciated!
DO NOTE that pages in the Magical Wiki may contain various levels of SPOILERS.
Getting Started
Edit
Making and editing pages in the Magical Wiki is easier than you may think! If you can write a school essay or an e-mail, you have what it takes.
A few notes:
There is plenty you can do to contribute! See below for a very incomplete list of pages that need to be created, and stubs in need of improvement.
Community and Planning: The Forum
Edit
Our forum's Watercooler acts as the group's social and working base of operations. Swing by to get aquainted with some of the other people working on the Magical Wiki. Here, you can find out what people are currently working on, and give us an idea of what you'd like to be working on as well, so that our efforts can be better coordinated and overlap less.
The forum is also the place where questions can be asked and resolved. If you every have a question, don't be afaid to ask. We'll do our best to help out
Using the forum helps us get to know one another, and helps us all better plan how to make the Magical Wiki bigger and better with every contribution.
Note to users: creating an account for advertising will result in your account being blocked and said advertisements being deleted.
Pages in Need of Creation
Edit
Note that this is not a complete list .
Stubs in Need of Improvement
Edit
Note that this is not a complete list.