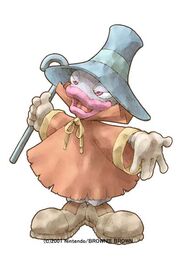 Pizza
is a character from both
Magical Starsign
and
Magical Vacation
who can be found and used to create warp stations in exchange for
Sugarstars
, or
Pinecones
, respectively.
Though it is never revealed in-game, the developers of Brownie Brown describe him as an "Interdimensional Life Object" with a strange attraction to small objects like Pinecones and sugarstars.
Warp points
Edit
Ad blocker interference detected!
Wikia is a free-to-use site that makes money from advertising. We have a modified experience for viewers using ad blockers

Wikia is not accessible if you've made further modifications. Remove the custom ad blocker rule(s) and the page will load as expected.