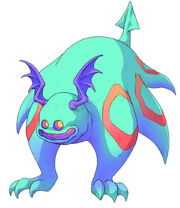 Pooka

A Pooka attacking.
Bestiary #
197
HP
Alignment
Dark
Level
20
Habitat
World Seam / Cocoabutter Valley
Drops
None
Bestiary Entry
This mysterious enigma is more of a grunt, possessing powerful attacks and empty, terrifying eyes.
Bira Rewarded
650
Pooka are an enemy fought in various locations throughout the game. They are the grunt Enigma. An identical but higher leveled enemy called a Piskipook is fought in Cocoabutter Valley; however this enemy lacks a separate bestiary entry.